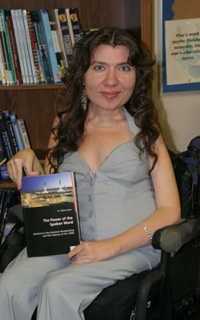 Codrina Cozma, Ph.D.
Associate Professor of English
South Georgia State College
Douglas & Valdosta, GA
January 2006-present
Contact Info
Phone: 229-251-9927 (cell)
E-mail: codrina.cozma@sgsc.edu
"We hold these truths to be self-evident, that all men are created equal, that they are endowed by their Creator with certain unalienable Rights, that among these are Life, Liberty and the pursuit of Happiness."
(The Declaration of Independence)
Dr. Codrina Cozma's Teaching Philosophy
is firmly anchored in the principles that contributed to the foundation of the most powerful democratic state in the world, the United States of America. As stated in the U.S. Declaration of Independence, the value of the individual as a unique human being with unique talents and potential is central to Dr. Cozma's teaching. In her interaction with students and colleagues, Dr. Cozma operates with an utmost respect for the diverse needs, opinions, values, and cultural backgrounds of individuals. Dr. Cozma's teaching places great emphasis on fairness to all, equitable policies, and an indiscriminatory application of clearly established rules. While addressing the diverse learning abilities of each student, Dr. Cozma also strives to create an enthusiastic and nurturing learning environment, that enables students to exercise their "unalienable Rights," and especially their freedom of speech, and to maximize for them the opportunity to fully develop their potential. As a proud employee of South Georgia State College, Dr. Cozma feels privileged to offer quality teaching delivered with high professional ethics!
Teaching Tools and Methods
GeorgiaView-enhanced classes

Multimedia usage

Group work and peer-reviewing

Research

Free-writing

Close text analysis
Course Resources
SPRING 2017
AMERICAN LITERATURE II
Syllabus American Literature II ENGL 2132
SGSC ONLINE Courses
GEORGIAVIEW HANDOUTS
COMPOSITION I ONLINE
Orientation Composition Online
Syllabus Composition I Online ENGL 1101-1
Lectures Notes Composition I Online
COMPOSITION II ONLINE
Lectures Notes Composition II Online
Syllabus Composition II Online -ENGL 1102-14
Syllabus Composition II Online - ENGL 1102-F
WORLD LITERATURE I ONLINE
Syllabus World Literature II - ENGL 2112-2
MLA Format
Understanding MLA
Modern Language Association (MLA)
MLA Formatting and Style Guidelines
The Owl at Purdue University
https://owl.english.purdue.edu/owl/resource/747/01/