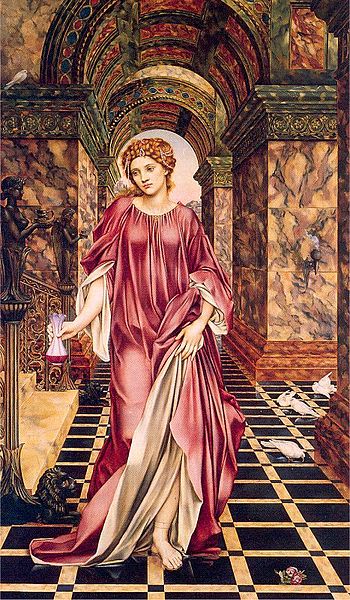 Characters
Medea, daughter of Aeetes, King of Colchis, granddaughter of the sun-god Helios, neice of the witch-goddess Circe.
Jason, exiled prince of Iolcas
Creon, King of Corinth
Aegeus, King of Athens
Themes
Revenge
Rage
Justice
Infanticide
Love
Passion
Witchcraft
Female empowerment / oppression
Background
Jason and the Argonauts: the Quest for the Golden Fleece
Jason's throne had been usurped by his uncle, Pelias.
Pelias sent Jason on a quest to retrieve the Golden Fleece in order to achieve the throne. This was meant to be an impossible, suicidal quest.
AeŽtes, King of Colchis, (Medea's father) possessed the Golden Fleece.
AeŽtes promised the give the Golden Fleece to Jason if he could complete three tasks. Medea, who had fallen instantly in love with Jason, used her witchcraft to help him survive the tasks in return for his promise to marry her.

Yoke fire-breathing oxen and plough a field with them ... Medea gave Jason a fire-proof unguent with which to cover himself and his weapons.
Sow the field with the teeth of a dragon, which instantly sprouted into a hostile group of armed men ... Medea had forewarned Jason and told him to throw a rock into their midst; the men, who were rather stupid, assumed one of their number had thrown the rock, and they killed each another.
Kill the dragon which guards the Fleece ... Medea provided a sleeping potion for the dragon.

Medea and Jason flee with the fleece.

Medea kills and dismembers her own brother, tossing pieces of his corpse overboard, to slow her father's pursuit and achieve their escape.
Medea murders Pelias, kind of...
Pelias had refused to give up the throne.
Medea demonstrated her youth restoring and resurrection skills to Pelias' three daughters, by killing, dismembering, and boiling and old ram in a cauldron with her special potion. The ram leapt from the cauldron as a young ram.
Medea then urged Pelias' daughters to kill and dismember their aging father so that he could undergo the rejuvenating process. Medea failed (on purpose) to add the the magic herbs to the cauldron, thus producing Pelias soup.
Medea and Jason had to flee Iolcas.
Refugees in Corinth
Medea and Jason have two sons.
Jason abandons Medea for King Creon's daughter.
Medea's Personae
Woman

Wife, mother, nurturer ... in this role she is a victim

Outsider

Barbarian princess, witch ... certain people try to victimize her because she is an Other, but she is simply too powerful for them to succeed

Hero

honorable, fearful of ridicule, determined to defend her honor ... it is this role that Medea triumphs
Medea's Friends and Protectors
The Chorus of Women (Corinthian women)

Her BFF's support Medea, lamenting Jason's mistreatment of her; they believe she is justified in her plan to kill Jason and his new wife; they are distressed, however, when she decides to kill her children; one of their final comments is that it is better for women to go childless.

Aegeus, King of Athens

Offers Medea a safe haven in Athens and ultimately marriage.

Helios, her grandfather

He aids Medea's escape by sending a golden, flying chariot to spirit her away.

Zeus, King of the gods

As the god of oaths, Zeus is supportive of Medea's plans for revenge.
Discussion Questions
Is Jason a hero?
Is Medea a tragic hero?
Do you find Medea sympathetic or reprehensible?
Sophocles said that Euripides drew men as they are, not as they ought to be. Is that true?
What are Medea's ethical and moral concerns?
Why does Medea kill her sons?