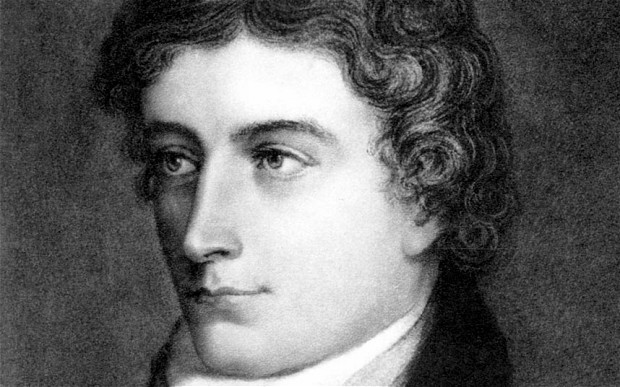 1795-1821
English Romantic Poet; died of tuberculosis.
I WEEP for Adonais—he is dead!
O, weep for Adonais! though our tears
Thaw not the frost which binds so dear a head!
And thou, sad Hour, selected from all years
To mourn our loss, rouse thy obscure compeers,
And teach them thine own sorrow! Say: 'With me
Died Adonais; till the Future dares
Forget the Past, his fate and fame shall be
An echo and a light unto eternity!'
(from "Adonais: An Elegy on the Death of John Keats," Percy Bysshe Shelley)
On First Looking into Chapman's Homer
Italian Sonnet (octave + sestet)

About the translation of Homer by George Chapman (1616); not the usual fare -- Keats' generation typically read Pope's translations.

note the poet's fascination with the power of poetry.
Bright Star
English Sonnet (3 quatrains + couplet)

what not so obvious quality of the star does Keats want to emulate?
Ode on A Grecian Urn
Ode form -- lyrical stanza in praise of or dedicated to someone or something

mimesis -- "imitation"

Going back to antiquity philosophers and poets and artists have debated whether man can copy or imitate or recreate nature through art or even if man should want to do so. Some even argued that art is an improvement on nature.

The Romantics (except for Wordsworth) believed that art could and should imitate nature; NOT copy or duplicate it.

ekphrasis -- the verbal exploration of visual art

visual art vs. poetry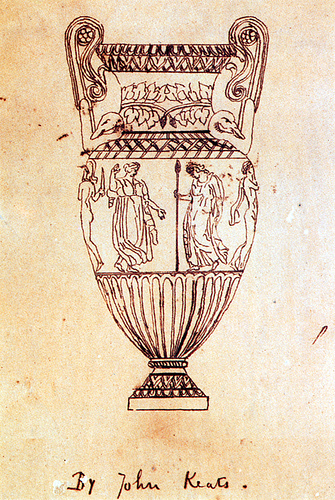 Keats' drawing of the Sosibos vase (1819)