Introduction

When we say that Gilgamesh is the first epic in the world, we are claiming that it has most or all of the characteristics of the genre called "epic," but what exactly is an epic? Simply put epics are long narrative poems centered on the deeds or quests of a central hero. Epics typically have a central theme and a main task or quest that the hero must achieve or complete before the end. Gilgamesh, the eponymous hero, has several adventures that could qualify as "epic" on their own merit, but ultimately they are all just signposts on his journey from being a vicious tyrant to becoming a shepherd-king. Interestingly, Gilgamesh's journey is not physical but a moral, ethical, and spiritual quest to become a better man. Along the way he will meet and lose his soul-mate and best friend Enkidu, kill monsters, resist the temptation of a deceitful goddess, and search for the cure for death, but in the end he will find himself, and his people will hail him as the greatest of kings.

Uruk: 150 miles south of modern-day Baghdad

Historical Gilgamesh: Gilgamesh was a King in Uruk sometime around 2800-2500 BCE

The Epic: Old Babylonian epic (taken from 5 Sumerian poems and 1 Akkadian epic) was recorded in the 18th century BCE.
Themes and Motifs

THEMES:
A theme is a unifying idea or concept that is woven into the fabric of a literary work. Some of the themes of Gilgamesh are:
Love and friendship

Heroic ideal

Heroic journey/quest

Knowledge (the search for it and the acquisition of it)

Loss of innocence

Tyrant vs. King

Gods vs. Humans

Women as helpers and teachers and seductresses

Fear

Dreams

MOTIFS:
Think of a motif as a visual theme; it is an image that is repeated throughout a text and that points to a theme; some motifs may appear in several texts in a genre or over a literary period. Some motifs in Gilgamesh include:
water

seduction

doors/gates
Main Characters:
Anu: chief of the gods; sky god; father of Ishtar; patron god of Uruk
Aruru: earth goddess; Great Mother; creator of Enkidu
Ea: god of wisdom, crafts, and mischief; creator and ruler of humans; half-brother of Enlil who warns Utnapishtim of the Flood
Enkidu: Gilgamesh's friend and equal; 2/3 beast and 1/3 man
Enlil: god of earth and wind; sent the Flood
Gilgamesh: King of Uruk; 2/3 god and 1/3 man; son of the goddess Ninsun and King Lugalbanda of Uruk
Humbaba: "a ferocious giant" set by Enlil to guard the Cedar Forest
Ishtar: goddess of love, fertility, and war; queen of Heaven; also known as Innana
Ninsun: moon goddess ("Lady Wild Cow"); mother of Gilgamesh
Shamash: sun god; god of travel and justice; patron of Gilgamesh who sends him dreams and gifts
Shamhat: The temple prostitute and priestess of Ishtar who was sent to seduce and civilize Enkidu
Siduri: the alewife or tavern keeper who counsels Gilgamesh to take pleasure in life and abandon his search for immortality.
Utnapishtim: priest and king; survivor of the Great Flood; dwells in Dilmun or Paradise; granted immortality by the gods
Talking Points
Gilgamesh goes from being a bad king (a tyrant) to a noble and beloved king. How and why does the transformation take place?

What is the nature of Gilgamesh and Enkidu's relationship? How do each of the men benefit from their relationship? What gifts does each man give the other?

The serpent that eats the plant should remind you of another serpent in a certain Middle Eastern garden. What do these two serpents have in common?

What are all the possible meanings of water in this story?

Women play a particularly interesting role in the epic. Describe the different types of women and what roles they play.

When and why or of what are Enkidu and Gilgamesh afraid?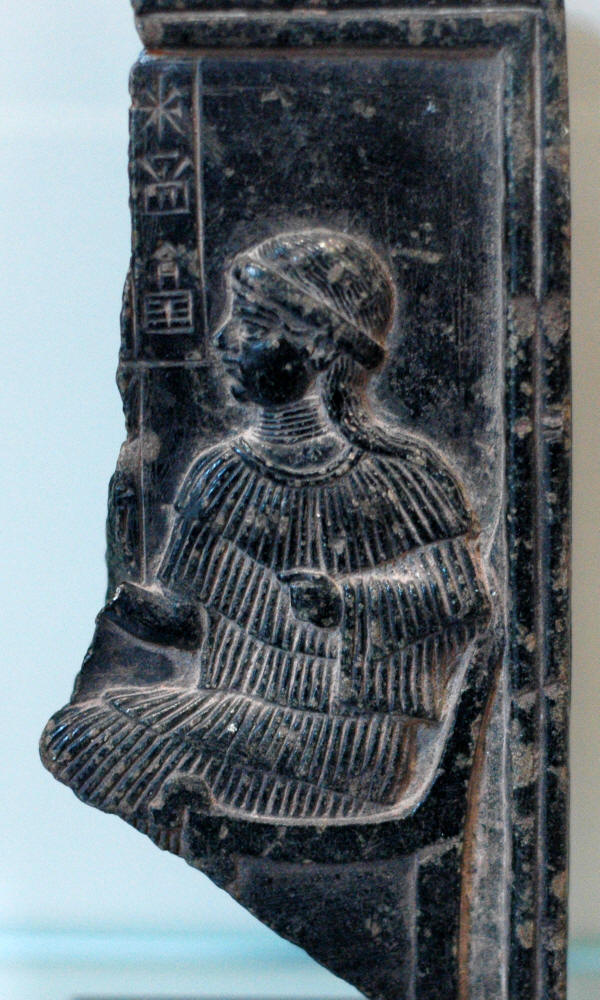 Fragmentary relief dedicated to the goddess Ninsun, mother of Gilgamesh. Steatite, Neo-Sumerian Period.